品牌:MSA GLASS ENGRAVING
品牌:德國 Eisch 無鉛水晶杯(不含鉛的水晶紅酒杯)
材質:勃根地杯/玻璃杯/水晶杯/紅酒杯/純手工製
尺寸:高約25.4cm / 710ml

客製範圍:名字+一句短句+日期
(特殊客製依複雜度另外報價,歡迎提供訂製圖檔)
300年歷史的Eisch德國第一玻璃製品
Eisch是德國知名玻璃工藝品製造家族,至今已有 300 年的歷史。
最具有傳奇色彩的就是 SensisPlus 系列(呼吸系列),是全世界唯一一個擁有「快速醒酒葡萄酒杯」(faltblatt Sensis_englisch) 專利的酒杯。能讓酒的口感更好的獨創技術是Eisch從不外傳的秘密!


Eisch獨具特色功能的"呼吸杯"全部為純手工製作,在燒製的過程中加入了獨特的氧化工藝處理,絕非使用化學塗料,所以不論使用多少次都能保證幫助酒液快速微氧化,以達到醒酒的目的。使用這種高科技的透氣酒杯品嚐起來像是將葡萄酒放在醒酒器裡接觸空氣兩個多小時之後的效果。粗糙的葡萄酒倒入透氣酒杯后被柔化得更快,同時酒的風味也得到升級。
DRINKING GLASSES WITH SENSISPLUS FEATURE
when the glass tells us about the wine
With the SENSISPLUS glass EISCH GERMANY presents a development in the field of flavour perception that convinced gourmets and wine connoisseurs worldwide doing wine glass comparison tastings.

SENSISPLUS is the key to every wine. With SENSISPLUS the wine shows to advantage its full complexity and its full potential after pouring in a short time. To best enjoy the most popular wines we recommend a Burgundy, a Bordeaux, a Red Wine and a White Wine glass.

SENSISPLUS helps to enjoy, to taste and understand wines without having to be an expert.
變好喝的Eisch快速醒酒杯
將紅酒注入酒杯2-4分鐘後,具有等同在醒酒瓶內1-2小時的醒酒效果。採用的「無鉛水晶玻璃」以可透光性佳的鉀及氧化鋇代替鉛,並運用鉀及鋇之金屬高熔點,不易還原及釋放,使杯身能保有水晶般的色澤且更穩定安全,還擁有清脆悅耳的碰杯聲,工藝由經驗豐富的玻璃吹製大師純手工燒製,杯身與杯頸無縫銜接。


Eisch Sensis plus known for its glass, where the content comes into its own in more than any other glass. Sensis-plus glass connecting experience and innovation strength of Glashütte Eisch wine to their own interpretation of the highest pleasure. Sensis-plus glass opens the full flavor of the wine or other liquid. The original character of the drink and its structure remain thereby preserved.




如何實測品飲體驗
建議可以使用相同尺寸形狀的酒杯,一個是標準杯,一個是Sensisplus呼吸酒杯。 (挑選時另一個酒杯尺寸形狀盡量與Sensisplus呼吸酒杯接近)。將等量的葡萄酒倒入兩個杯子中等待幾分鐘,首先聞香氣,再品飲品,比對口味香氣的不同體驗。
How to Do a Comparative Tasting
We recommend you use the same size, shape, and model of Eisch glass for your comparison, using one standard glass and one Sensisplus glass. (If a standard Eisch glass is not available, use a glass from another manufacturer that is as close in shape, size, and volume to the Sensisplus glass as possible). Clean both glasses by hand, and rinse in clear water. The comparison of wines works best when the bottle is opened right before tasting. Pour the same quantity of wine in both glasses, and then wait for a few minutes. First, smell the aromas of each, then taste the two. We recommend that you try the Sensisplus glass first - perhaps several times - so that you will remember the flavors and aromas more easily. Try different wines and experience Sensisplus.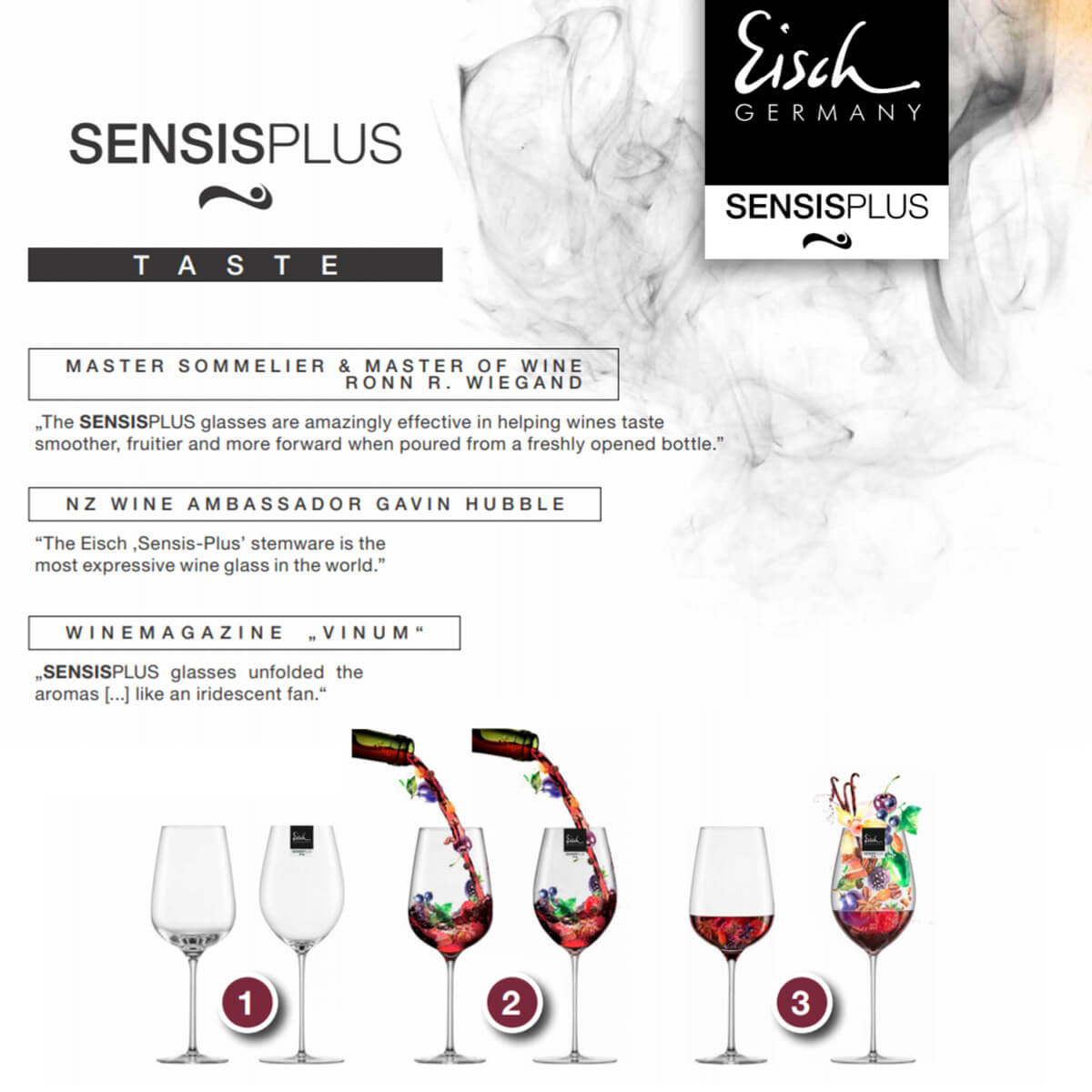 品酒師的香氣之旅
05分鐘-酒會開始變得有層次。
15分鐘-紅酒果香開始豐富起來,能夠體會到更多水果的特殊香氣,如櫻桃、草莓、桑葚等。
30分鐘-口感更加飽滿,入口時更柔一些非常接近充分醒酒時的口感。
如何識別Eisch Sensisplus呼吸醒酒杯?
杯底會有噴沙波浪型LOGO和特殊的Sensisplus標籤來識別Sensisplus醒酒杯